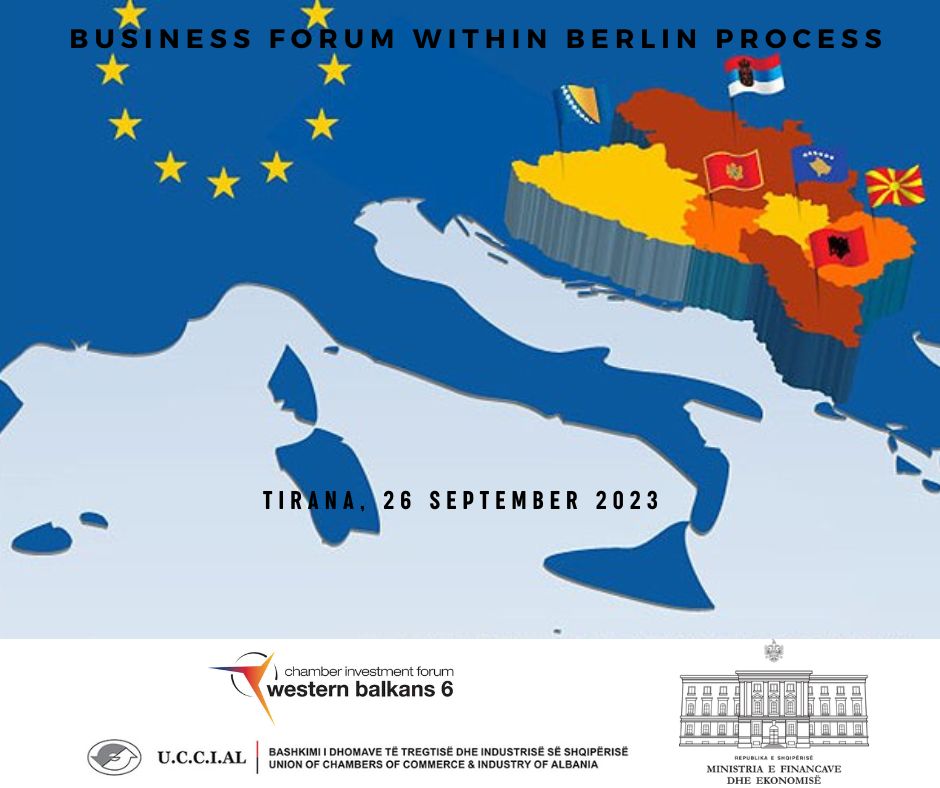 Uncategorized
BUSINESS FORUM INVITATION-PHASING IN INTO THE SINGLE MARKET AS A POTENTIAL FOR GROWTH FOR THE WESTERN BALKANS
In the scope of the Berlin Process, this year, Meeting of Ministers of Economy from Western Balkans and Business Forum are taking place in Tirana under the Albanian Chairmanship. These events will serve as a tool to reflect on our common achievements towards Western Balkan convergence towards the EU Single market.
The event is taking place in Tirana, Palace of Congress, on September 26th 2023, with presence of H.E. Prime Minister of Albania, Edi Rama, high representatives of European Commission, Western Balkans Ministries and regional organizations.
This Business Forum aims to present the main achievements and stepping stones towards the EU Single Market, as well as to emphasize the needs and recommendations from the Western Balkans business community to fully reap the growth potentials of the region. Representing a turning point in the Berlin Process, the event in Tirana will bring together decision makers from the region, as well as participants in the Berlin Process and company representatives, giving fresh momentum towards higher regional cooperation and phasing in into the EU Single Market.
The Concept paper and agenda for the event are linked. We invite interested companies to confirm their presence at the event by filing the registration on the official event platform.
For any additional information, please contact:
Union of Chambers of Commerce and Industry of Albania – Uarda Llazi, info@uccial.al
Foreign Trade Chamber of Bosnia and Herzegovina – Stanislava Perišić, stanislava.perisic@komorabih.ba
Kosovo Chamber of Commerce – Muela Ibrahimi, muela.ibrahimi@oek-kcc.org
Chamber of Economy of Montenegro – Vladimir Tomić, vtomic@pkcg.org
Economic Chamber of North Macedonia – Sanja Nikolova, sanja@mchamber.mk
Chamber of Commerce and Industry of Serbia – Nemanja Andrejić, wb6cif@pks.rs