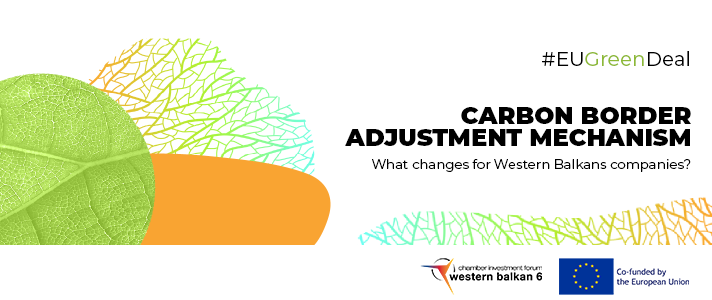 Uncategorized
Invitation for Working meeting – Carbon Border Adjustment Mechanism-What changes for Western Balkans Companies?
Join us for a pivotal event organized by the Western Balkans 6 Chamber Investment Forum (WB6 CIF), tailored to meet the needs of companies in the Western Balkans region.
Date: 6 September 2023
Time: 10:00
Location: Online Event
Unveiling the Future: Navigating CBAM Transition for Balkan Companies
The Carbon Border Adjustment Mechanism (CBAM) is a crucial element of the European Green Deal, set to reshape the business landscape. As the region's companies gear up for this transformative shift, WB6 CIF is bringing together leading minds to illuminate the path forward. This is an opportunity for all interested companies to get the information directly from the representatives of the European Commission and national authorities and to participate in the open discussion.
Why Attend?
Stay Ahead: Understand the new implementing guidelines during the CBAM transition period and how they affect your operations.
Engage with Experts: Connect directly with representatives from the European Commission's Directorate-General for Neighborhood and Enlargement Negotiations (DG NEAR) and Directorate-General for Taxation and Customs Union (DG TAXUD).
Interactive Dialogue: Participate in open discussions with industry peers and decision-makers on CBAM, carbon leakage prevention, and the EU's climate ambitions.
Networking: Forge valuable connections with fellow business leaders and gain insights that can drive your success.
Who Should Attend?
Business Owners and Decision-Makers
Industry Professionals in Carbon-Intensive Sectors: Cement, Iron and Steel, Aluminum, Fertilizers, Electricity, and Hydrogen
Secure your spot now for this dynamic event! Don't miss out on this exceptional opportunity to gain firsthand knowledge, engage with EU authorities, and join the conversation shaping the future of Balkan businesses.
Register here
Upon registration, you'll receive a confirmation email with all the essential details for seamless participation.
Language: The working language of the event is English.