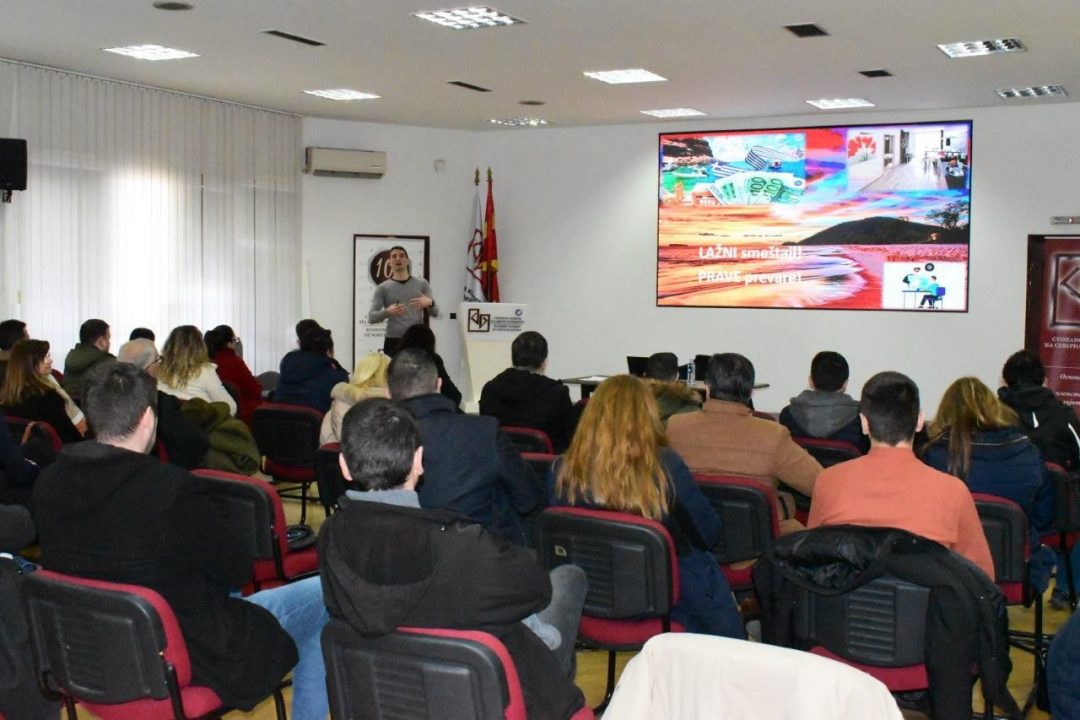 ORGANIZED SEMINAR ON CONFIDENCE AND SECURITY WITH THE SUPPORT FROM THE CHAMBER INVESTMENT FORUM
The Economic Chamber of North Macedonia, with the support from the Western Balkans 6 Chamber Investment Forum (WB6 CIF), organized one-day free seminar on Confidence and Security, that took place on 8 February 2023, according to the requirements of the business community.
Mihajlo Donev, M.Sc., acting Operations Director for Development, Innovation, and Knowledge at the Economic Chamber of North Macedonia, opened the seminar by pointing out that this activity is carried out with the support from WB6 CIF under the EU funded project "EU Support to the WB6 CIF." He added that the project focusses on supporting small and medium-sized enterprises in the field of internationalization of operation, emphasizing easier access to sources of finance, creating startups, and stimulating research and innovation.
Seminar aimed at familiarizing the participants with current security threats and frauds taking place as of late, both in the region and globally, providing them with basic and advanced knowledge of managing information security and data protection, as well as helping the participants understand the IT control employed to detect and prevent in case of security threats.
Seminar included participants from IT companies, financial institutions, ministries, municipalities, and other state institutions, foreign capital companies and law firms, that is, people working in the IT sector and for information system security services, as well as persons responsible for protection of business information and operational risk management.
Seminar provided basic and advanced knowledge and skills in managing information security and data protection, as well as managing current IT threats that may emerge in virtually every company.
Luka Milinković was the seminar lecturer, a person with long-standing experience in controlling and managing IT security risks through the development of new solutions and performing IT audits. He has taken part in implementation of software and hardware, various security algorithms – existing (DES, AES, RSA…) and some of his own creations, hash functions (SHA-2, SHA-3, BLAKE, JH, Grøstl…), protocols (IPsec, PGP…), and several authentication methods.