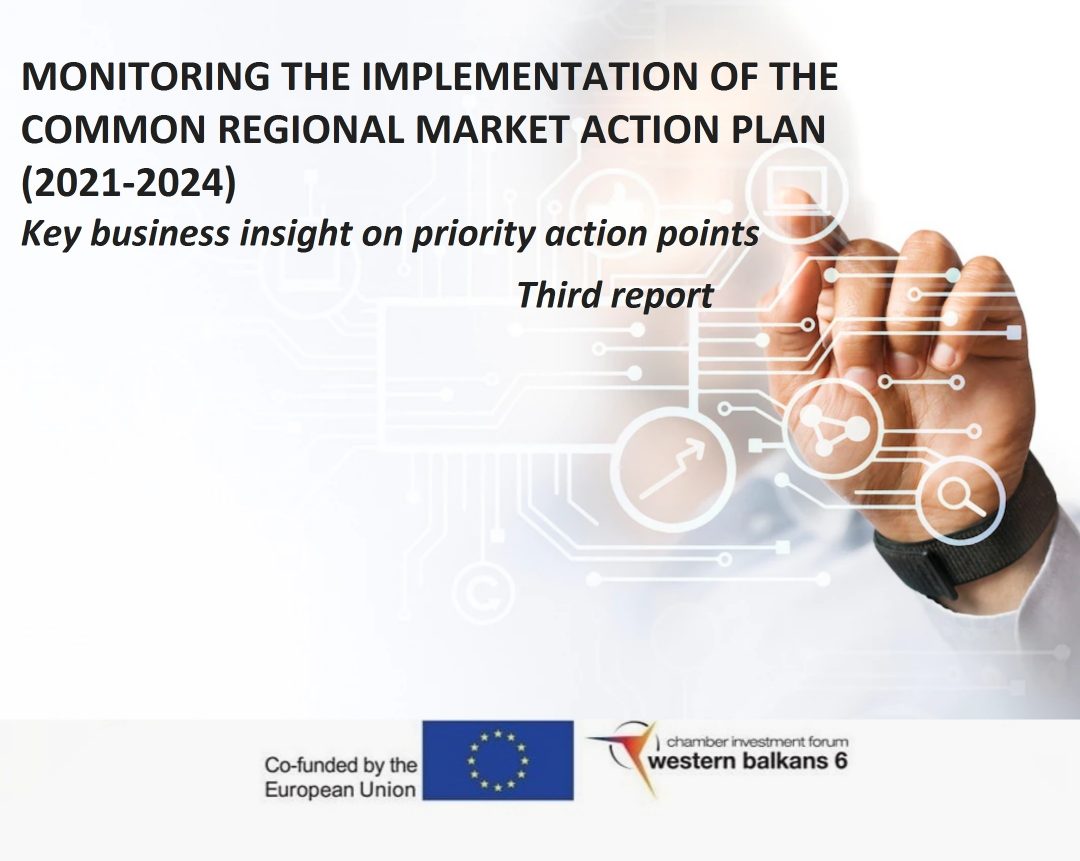 The Regional Center for Economic Analysis (RCEA) of WB6 CIF has prepared the third report in a row entitled: "Monitoring the implementation of the Common Regional Market Action Plan (2021-2024) – Key business insight on priority action points". This report is based on the views of 1150 companies from the Western Balkan region and it provides an opportunity for the business community to assess the potential of the common market by drawing lessons from the current phase of economic development, as well as to define and report on key performance indicators for the Western Balkan Common Regional Market Action Plan.
We kindly invite you to register to participate in the presentation of the report, which will be held online as a side event within CEFTA Week
On Wednesday, December 7, 2022, starting at 11:00 a.m.
The presentation will be held by Bojan Stanic, RCEA Coordinator and Deputy Director in the Chamber of Commerce and Industry of Serbia. Covered topics are following:
• Key Survey results within the key areas of the common regional market
• Personal views presented by successful business people in the region
• Macroeconomic overview of the Western Balkans
• Highlightes related to the socio-economic policy in the region under pressure of geopolitical risks
Western Balkans 6 Chamber Investment Forum (WB6 CIF), which represents the interests of 350,000 companies, mainly small and medium-sized enterprises, with a mission to open new opportunities for stronger networking of business communities in the region, regularly monitors the implementation of the Common Regional Market Action Plan with the intention of provides continuous feedback to policy makers, national authorities and all stakeholders. This key document of the regional economic agenda has a clear objective to improve the business climate in the region and to facilitate business within the region.
Registration is done through the following LINK.