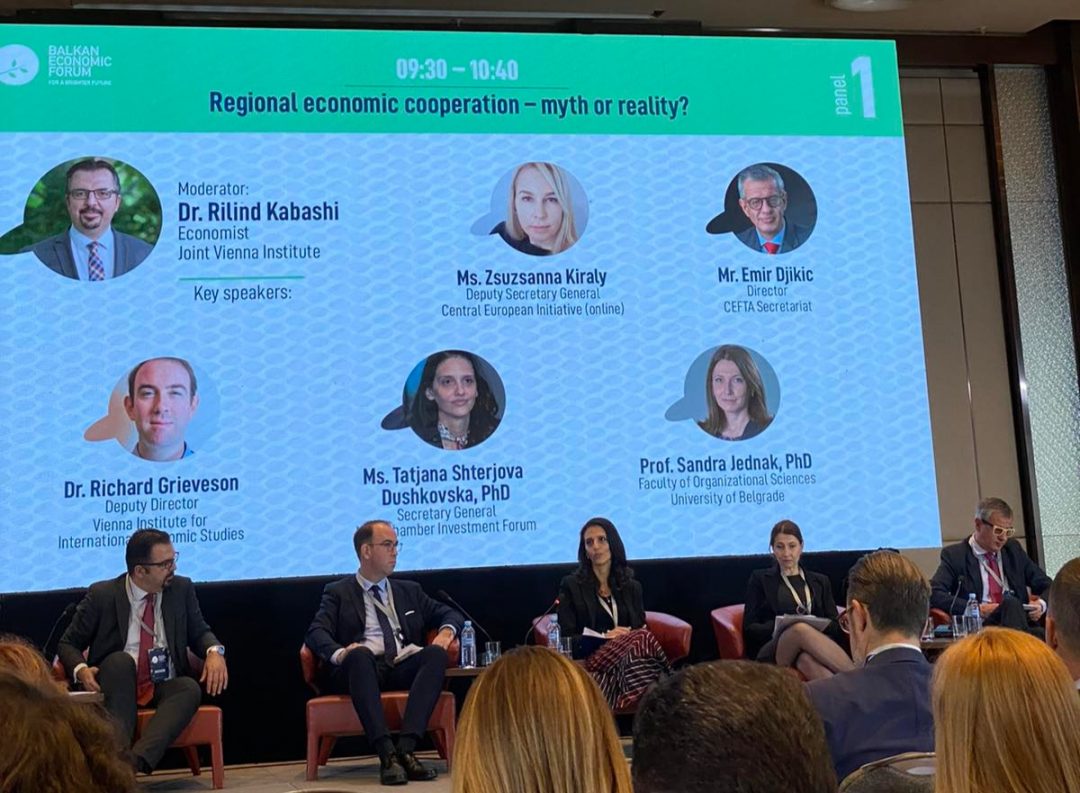 Uncategorized
The Balkan Economic Forum 2022 is a larger-scale conference held on the 18th of November at the DoubleTree by Hilton Skopje in North Macedonia
The main missions of the Balkan Economic Forum are to support the expansion and implementation of innovative strategies and bring effective solutions to the current economic difficulties encountered by the Balkan countries.
This year's edition of the "Balkan Economic Forum" was held under the auspices of the Government of the Republic of North Macedonia and with the support of the Economic Chamber of North Macedonia, the delegation of the German economy, the Western Balkan 6 Chamber Investment Forum (WB6CIF) and the Austrian Embassy in Skopje.
Ms.Tatjana Shterjova Dushkovska Secretary General of the WB6CIF participated in today's panel. She pointed out in her address that:
– Regional cooperation is definitely not a myth, we from the private sector like to use the phrase that businesses have been moving borders even at times where politics has kept the doors shut, so it is there, its existing, it is not some imaginary paradigm.
– However, we should be honest and admit that the regional economic cooperation we have at the moment is definitively not the reality we want to see – although a slow progress has been made throughout the years, we are still very far from where we want to be – and again, the request for free movement of goods, services, people and capital may sound as an empty phrase, but is a crucial need for the businesses from the region.
– The regional market is quite important for the local business community, since many companies distribute their products across the whole region. A large number of suppliers come from the region, and a close connection among them was established in the past. The regional market is of essential importance for many firms for their business operations, especially in terms of sustainable and long-term export strategy, said Ms.Shterjova Dushkovska.
The focus of this year's edition of the "Balkan Economic Forum", which was held in Skopje for the first time since its establishment, were regional economic cooperation, accelerated energy transition, financing of economic cooperation and regional development, improvement of professional skills of the workforce in the Balkans, as and innovations in the creation of economic policies.
Five panels were held in the forum part, and among the panelists were Emir Djikić (CEFTA), Gržegož Zielinski (EBRD), Ante Babić (DG Near), Miloš Mladenović (SEE Power Exchange), Sandra Švaljek (Deputy-Governor of the Croatian National Bank), Herjola Spahiu (NOA Albania), Susana Kirali (CEI), together with prominent experts, representatives of the real sector and more representatives from specialized economic educational institutions.