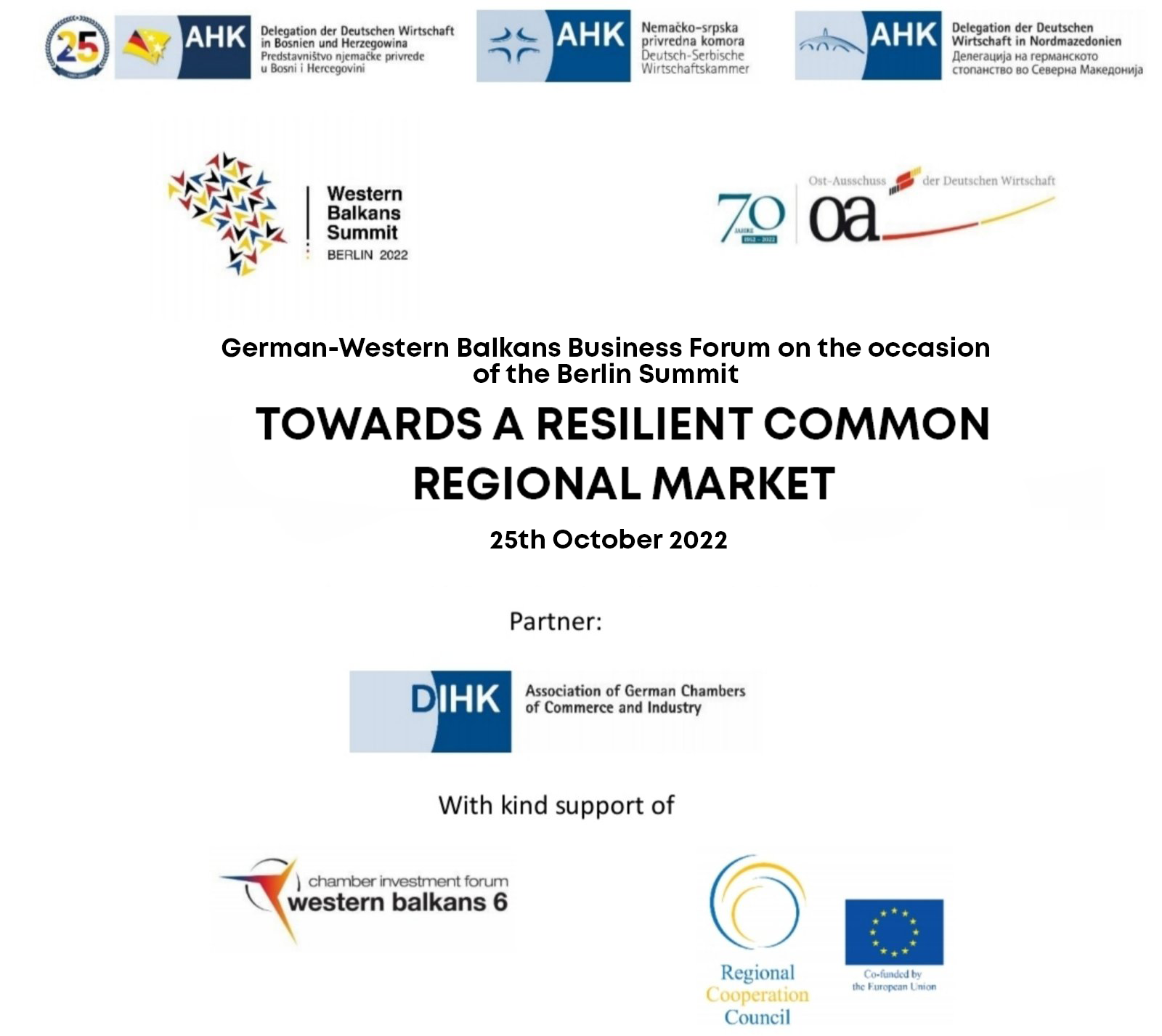 Economic Forum – TOWARDS A RESILIENT COMMON REGIONAL MARKET, October 25th, 2022
On the occasion of the Berlin Summit 2022, Western Balkans 6 Chamber Investment Forum (WB6 CIF), German Eastern Business Association, the network of Chambers of Commerce Abroad in the region, with the support of the DIHK and Regional Cooperation Council (RCC), are inviting you to the German-Western Balkans Business Forum "TOWARDS A RESILIENT COMMON REGIONAL MARKET" that is to be held on October 25th, 2022, starting at 09:00 in NH Collection Hotel Berlin.
We have been supporting the Berlin Process from the its very beginning and we strongly believe in a constructive ongoing dialogue with the governments in the region and all stakeholders interested in a prosperous economy in order to master the current challenges the region is facing with.
The Federal Government of Germany has underlined its commitment for the further development of the Western Balkans countries various times. The Federal Ministry for Economic Affairs and Climate Action has invited the Ministers of Energy from the region to a high-level meeting which will take place prior to the meeting of the heads of state of the Western Balkans Countries, in order to discuss the implementation of the Green Agenda and its importance for overcoming the energy crisis in the region. The second panel of the day we will include a discussion with companies about the current challenges and potentials of a business engagement in the economies of the Western Balkans.
If you are interested to be a part of the upcoming event, please register till October 23rd, 2022, using the link https://www.oa-event.de/ and the login code WB6.
Please find the conference agenda HERE.