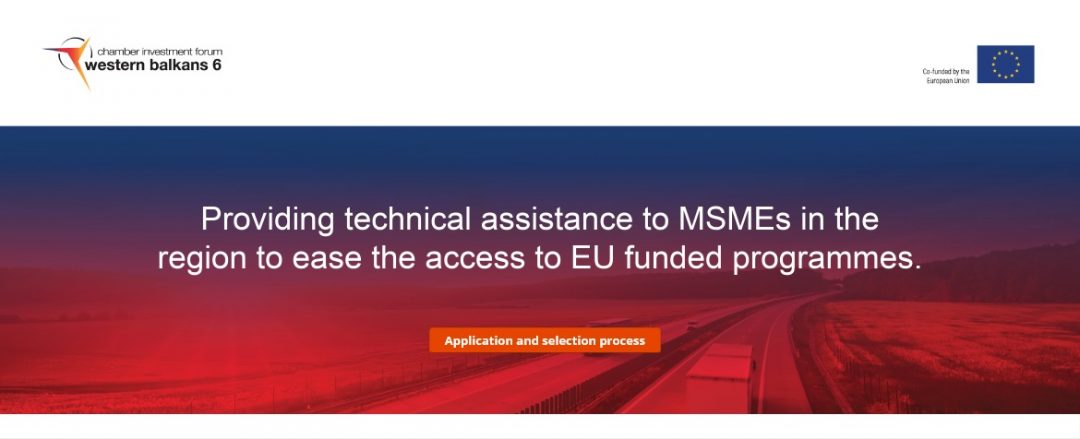 Call for application for MSMEs to participate in the project of providing technical assistance to MSMEs in the region to ease the access to EU funded programs
Chamber Investment Forum Western Balkans 6 (WB6 CIF) within the project "EU support to the WB6 CIF" in cooperation with six Chambers of the Western Balkans region invites micro, small and medium-sized enterprises (MSMEs) to apply and participate in the project of providing technical assistance in the application for EU funds.
This program envisages the participation of 60 MSMEs from the Western Balkans region, for each of the six economies support for 10 companies will be provided. We invite you to access the Application Platform, which is specifically designed to implement this activity and select potential participants in the program. You can sign up to the platform via the LINK.
The platform will serve as a key contact point, help desk and knowledge center for potential learners. It will be used to assess the readiness of MSMEs to participate in this program and to train on all aspects of participation. Upon completion of the training, an evaluation and assessment of companies that meet the set criteria will be performed and based on the results, 60 MSMEs from Western Balkan region will be included in the further work process, and individual approach to each company will be provided.
The course is designed to educate potential candidates in the most efficient way, through the example of a generic call for proposals. Upon completion of the Readiness Assessment Course and Test, and evaluation of potential candidates, selected companies will be notified by e-mail.