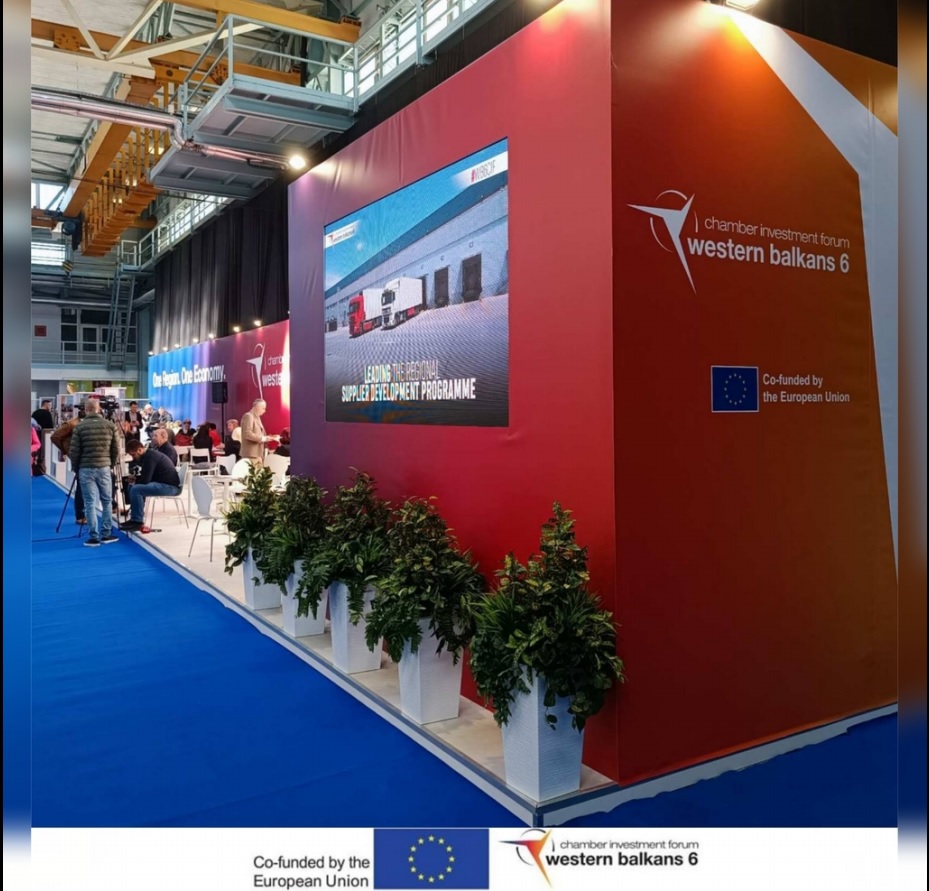 Joint regional delegation at "23rd International Economy Fair Mostar 2022"
Two-day participation of joint regional delegation at "23rd International Economy Fair Mostar 2022",  organized by the Western Balkans Six Chamber Investment Forum within the Supplier Development Program and with the support of the European Commission was successfully realized.
More than 30 selected SMEs from the WB6 region from the agricultural and agri-food sector presented their products, explored new export opportunities, strengthened existing and established new business connections with partners from Bosnia and Herzegovina, Western Balkans and other countries. After two-year break, Mostar fair, as the most important fair exhibition in Bosnia and Herzegovina, was visited by the number of exhibitors and visitors including high delegation of prime ministers and relevant ministries both from neighboring countries  and Bosnia and Herzegovina. Partner country of the Fair was Hungary, so large number of their exhibitors were also present.
Apart from the exhibition, selected companies had the opportunity to promote their companies and products in the WB6 catalogue and brochure but also to meet retail chains/distributors from the WB6 region which presented themselves on the first day of the Fair.
Opportunities for cooperation and their profiles were presented by regional distributors and chains Balkantina, Bingo, dm and Fan Commerce from Bosnia and Herzegovina, Uka Group from Kosovo, Domestic Trade from Montenegro and Mercator-S (Idea Organic) from Serbia.
On behalf of the Western Balkans 6 Chamber Investment Forum (WB6 CIF) within the project "EU support to the WB6 CIF", Foreign Trade Chamber of Bosnia and Herzegovina in cooperation with chambers in the region and Enterprise Europe Network organized a large event "Opportunities for projects, networking and gathering information". which was followed with  B2B meetings covering all sectors of economy. More than one hundred companies took part in these b2b meetings which were very positively evaluated. The main goal of the event was to create connections and cooperation between business entities and promote good and useful practices and it was achieved.
During the Conference participants learned more about organic production likewise  useful platforms for companies, challenges in doing business, possibilities, benefits and applicability of circular economy in the WB6 etc.
At the very beginning of the conference, the Deputy Secretary General of KIF / VTK BiH, Nihad Bajramović, addressed the audience and acquainted the participants in more detail with the essential goals and activities of WB6 CIF.
Marija Ašković Matić, project coordinator of WB6 CIF, presented new useful and free tools for companies. In order to support intra-regional and international trade and support the export of companies from the Western Balkans, WB6 CIF has developed a unique digital tool – Market Access database consisting of 4 modules with different functions and roles, while the database "Market Intelligence" companies in one place provides an overview of a wide range of information on macroeconomic indicators for the Western Balkans region, prices of products that companies want to export or import, taxes on certain products, market trends by country, regulations before placing products on world markets, etc.
On behalf of the European Entrepreneurship Network (EEN), Nikola Balić, Head of the Department of Science and Innovation at the University of Split, presented the FINNO Platform for Access to Finance and Innovation, as well as open calls for projects / grants. A broad support program was presented that companies can take advantage of.
Natasa Bakreska spoke on the topic of circular economy, cost reduction, zero waste, and waste as a global problem, types of waste, classification, and unfavorable waste management in the region.
Jelena Vlajić, expert on agri-food supply chains, spoke to the audience about the potential for creating international agri-food supply chains in the Western Balkans, as well as developing a circular economy to achieve economic, environmental and social sustainability.
After the conference, over 100 business meetings were held, attended by more than 100 companies from Albania, Bosnia and Herzegovina, Kosovo, Montenegro, Northern Macedonia, Serbia, Hungary and Croatia.