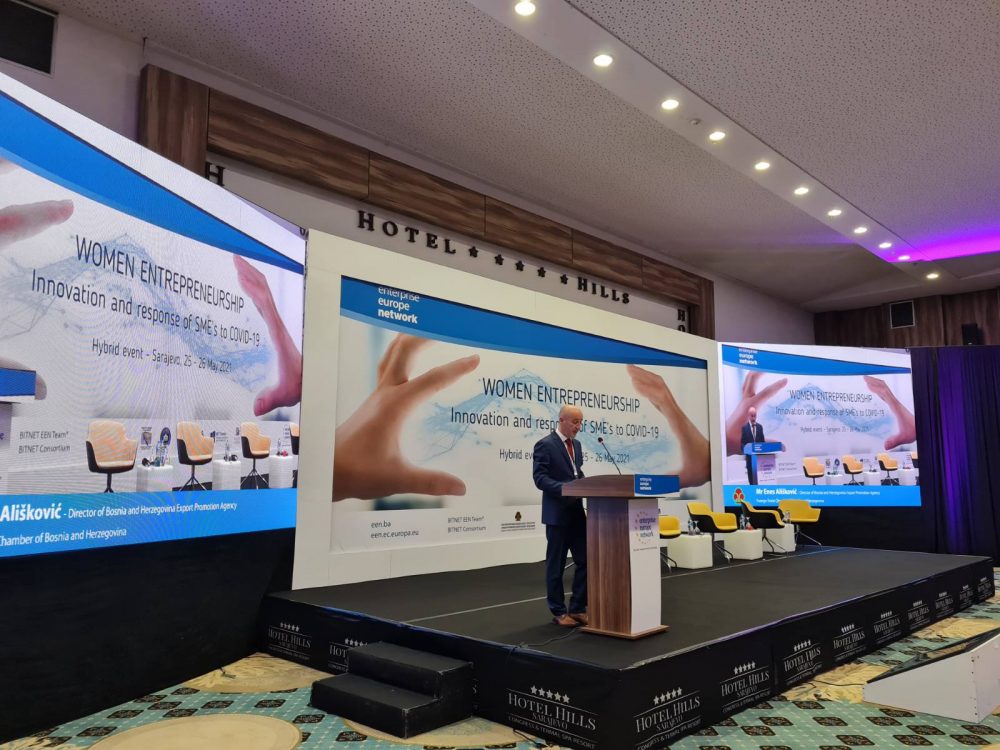 Uncategorized
WB6 CIF Secretary General Tatjana Shtejrova Dushkovska at the recently held hybrid event called "WOMEN'S ENTREPRENEURSHIP – Innovation and SME response to COVID-19"
WB6 CIF Secretary General Tatjana Shtejrova Dushkovska participated at the recently held hybrid event called "WOMEN'S ENTREPRENEURSHIP – Innovation and SME response to COVID-19" focusing on the promotion of women's entrepreneurship and seeking answers from women entrepreneurs to the globally difficult business conditions caused by the so-called "COVID-19 crisis".
The event was organized, on 25 and 26 May 2021, at the Hills Hotel in Sarajevo by the Foreign Trade Chamber of Bosnia and Herzegovina, as the coordinator of the BITNET consortium and the EEN Sector Group of Women's Entrepreneurship, together with the co-organizers and partners of the Network.
The main motive for organizing this type of event is to explore new ways to connect business interests, while promoting regional cooperation, European values, as well as the strength of women's entrepreneurship.
The time of the pandemic intensified the use of digital tools and communication channels. These tools are becoming crucial in helping clients and adapting to the new networking and business paradigm.
The introductory and plenary part of the conference was attended by high representatives of European and regional organizations, such as the European Women's Network within EUROCHAMBRES – Marta Schultz, President of the European Women's Network EWN, Western Balkans 6 Chamber Investment Forum – Tatjana Shterjova Dushkovska, Secretary General, Council for Regional Cooperation (RCC) – Tanja Miščević, Deputy Secretary General and Evisi Koplik, Competitiveness Expert, UN Women Representative – Amna Muharemović, Deputy Head of Office, Ministry of Foreign Trade and Economic Relations of Bosnia and Herzegovina – Brankica Pandurevic, Assistant Minister, the Foundation for Management and Industrial Research and co-organizers of the event -Gabriela Kostovska Bogoeska, Executive Director, Women's Entrepreneurship of the European Enterprise Network – Sanja Popović-Pantić, Chair of the Sector Group and Enes Ališković, Director of BHEPA from the Foreign Trade Chamber of B&H.
The Conference was followed by two-day online business meetings. Around 140 participants had the opportunity to expand their network of contacts and establish cooperation during 57 pre-scheduled business meetings. In addition to B&H the event was attended by participants from Albania, Austria, Belgium, Croatia, Hungary, Kosovo, Macedonia, Montenegro, Poland, Romania, Serbia, Spain and Ukraine.