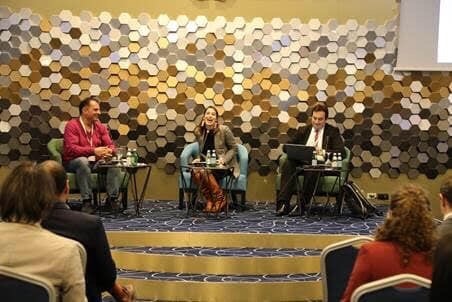 Uncategorized
Gerxhaliu: We need ministries for Regional cooperation in all WB6 countries
WB6 CIF's Secretary General Safet Gerxhaliu was one of the panelists of CSO Dialogue forum held in Pristina. Aiming to serve as a tool for regional stability, the Forum was organized by NGO Aktiv in cooperation with the Swiss Government, European Union, OSCE and KFOS.
In his exposé Mr. Gerxhaliu invited politicians from the region to follow WB6 CIF's example of promoting regional cooperation.
"It is difficult to speak about economy on the Balkans without involvement of politics. However, WB6 Chamber Investment Forum proves that clean economic initiative is possible. This Regional Association exists and functions very well. Having offices in Trieste and Podgorica with 6 employees, together with our MB President Marko Čadež we are very active and work on projects helpful both for companies and for countries. If the politicians follow our example, we will all have an excellent common future."
Gerxhaliu mentioned that taxes from Kosovo to Serbia and Bosnia and Herzegovina are a completely wrong political and populist decision that has no positive, but only negative effects on each of the countries involved.
Contrary to taxes, Secretary General gave full support to the mini Schengen idea.
"When I go back and remember of our first meetings in the Chamber of Commerce and Industry of Serbia a few years ago, I am happy to see that most of our demands of that time are now incorporated in the idea of regional mini Schengen. That's why I'm sure that in next 5 of 10 years it will became a reality. Until then, I strongly advise every government in the region to form a new Ministry of Regional Cooperation because dialogue should always be on the first spot"
Ms Valerie Hopkins, correspondent of Financial Times and moderator of the event, also agreed with Gerxhaliu's statement.
"When, for the first time, I had dinner with Mr Marko Čadež and Mr Gerxhaliu I was in disbelief how one Serbian and one Albanian can be so similar to each other. They literally finished their sentences together. Many years since than, I' m not surprised of WB6 CIF's success. In Čadež's and Gerxhaliu's vision, WB6 CIF was like a just born child, and that child is now growing up".
The activities of WB6 CIF were also recognized by the second panelist of CSO Dialogue forum – Mr Marko Savković, Program Director of Belgrade Fund for Political Excellence who said that the initiative for economic cooperation of Serbian and Kosovo's chambers were accepted with great sympathy.