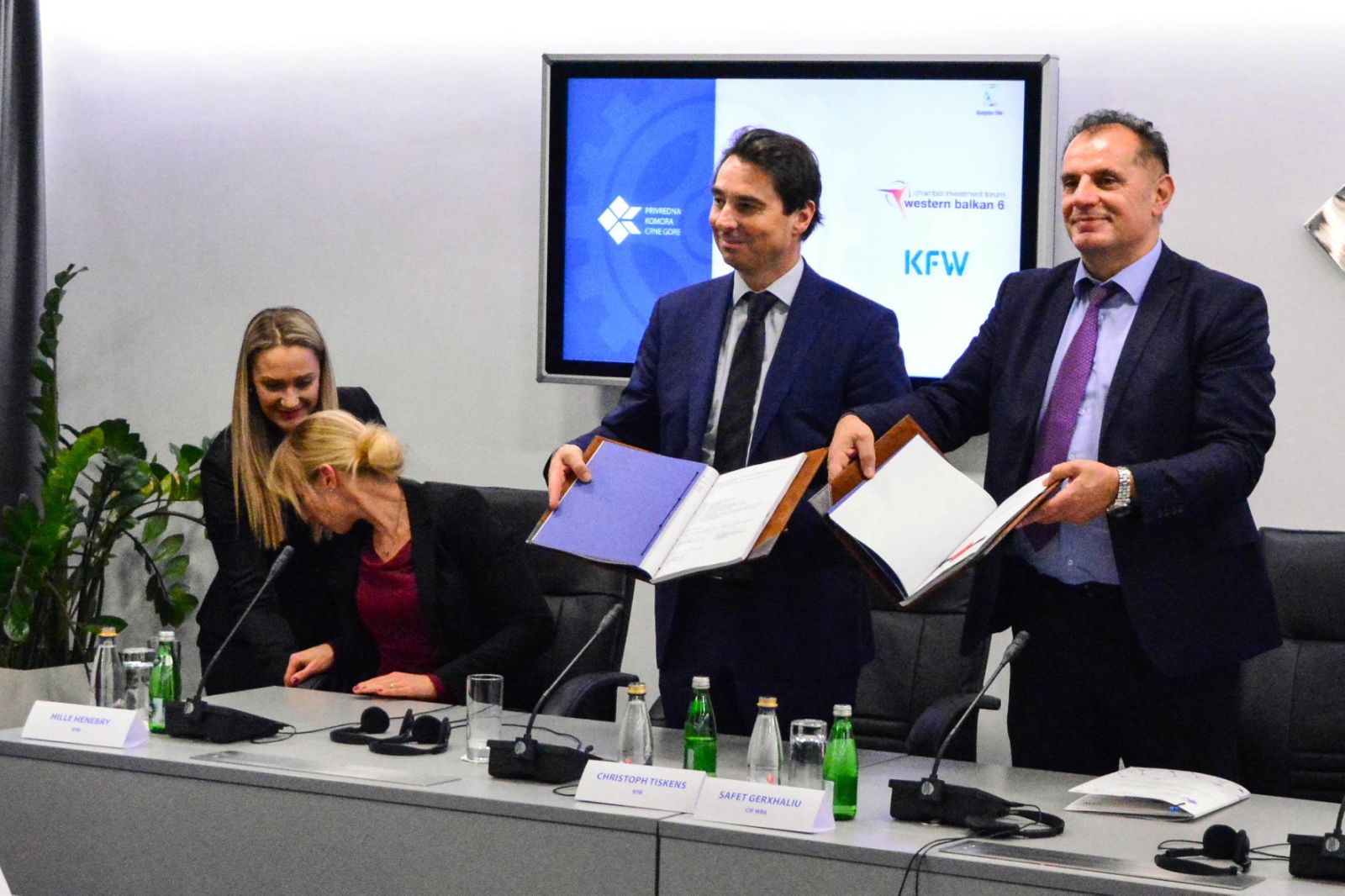 RCF
WB6 CIF and KfW Bank signed the Agreement: 25.5 million for vocational education
The agreement between the German Development Bank KfW and the Chamber Investment Forum of the Western Balkan Six was signed in the Chamber of Economy of Montenegro. The aim is to finance the projects in the field of secondary vocational education. The funds worth 25.5 million EUR were approved by the Ministry of Economic Cooperation and Development of the Federal Republic of Germany.
On behalf of the Chamber Investment Forum (WB6 CIF ), the project will be coordinated by the Chamber of Economy of Montenegro.
In addition to the representatives of KfW bank and the Managing Board of the Chamber Investment Forum, the signing was attended by the Deputy Prime Minister of Montenegro Milutin Simović, representatives of the German Ministry of Economic Cooperation and Development, and diplomatic corps.
The Secretary General of the WB6 CIF Mr. Safet Gerxhaliu stressed that the signed agreement is of great importance for the whole region, which contributes creating of its future of the area in cooperation with Germany.
– By investing in education we invest in the future. This is just the beginning of cooperation, and many more will come from this project for the benefit of the whole region – said Mr. Gerxhaliu.
According to Secretary General, our region has five strategic goals, the so-called 5E : Europe, Economy, Education, Environment and Experience, which can best be achieved in cooperation with Germany.
Christoph Tiskens, the director of KfW for the Southeast Europe and Turkey, said that with EUR 25.5 million, Germany wants to contribute to vocational education in the Western Balkans.
Through the project we will connect the institutions of the vocational education with the needs of the labour market –said Tiskens.
For already 30 years, the German Development Bank has been very active in the region, he added.
– KfW is an actor that reaffirms the German Government's commitment to support this regional process – Tiskens said.
He outlined four main principles of the Regional Challenge Fund: enhancing competitiveness, technical project selection, independent governance and cooperation with major stakeholders at regional level. According to him, the intention is for the Regional Fund to grow into the institution of an open door for learning, which will cooperate with other donors over time. He emphasized the importance of dedicated work on this project and cooperation with the Chamber Investment Forum in this area.
The agreement will strongly support the efforts to implement policies aimed at reduction of unemployment, especially for young people in the Western Balkans.
When it comes to the necessity of regional cooperation, political, economic and security level is always emphasized, but cooperation at these levels is by no means possible without the advancement of education and training of young people and professional staff.