Montenegro is sincerely committed to every aspect of regional co-operation and will make available all its resources and co-operate in development of new regional initiatives, Prime Minister Dusko Markovic announced.
At a conference called "Synergy – the key to the region's success", organized by Chamber of Economy of Montenegro in Budva, Prime Minister said that Montenegro, as one of the smallest and most open economies, is very interested in improving regional co-operation.
"The state will make all its resources available and sincerely cooperate in the development of new regional initiatives, to the extent that not represents an alternative, but an addition to our European agenda," Markovic said.
Everyone must be aware that new ideas, entrepreneurial ventures and better working methods are needed, and neither Montenegro or Balkan neighbours should seek them in isolated national contexts. He said that the call for everyone to see the region together as an opportunity for synergistic action should be considered with due care.
The economy of Montenegro has been recording steady growth rates for a full decade, and only growth in the last three years clearly confirms progress that is being made. A good foreign direct investment trend is further confirmation of the quality of business environment and security of investment we have created. Over one billion EUR of net foreign investment inflows in the last two and a half years are not a coincidence, but a result of commitment, Markovic said.
However, it is important not to lose focus on the primary task of achieving a European quality of life for all citizens. Development rates must remain at a high level and he added that faster economic development can only help accelerate integration while it is built on the European heritage.
He added that young and educated people need more creative jobs, an active core of scientific thought, new knowledge, credible international partners and centers of economic activity that will be attractive not only to ours but also to the residents of neighbouring countries. That is the only way we can respond to modern demographic challenges.
He rated positively launching of numerous initiatives, notably the Berlin Process, while it is extremely important to the economy of the region formation of the Western Balkans 6 Chamber Investment Forum.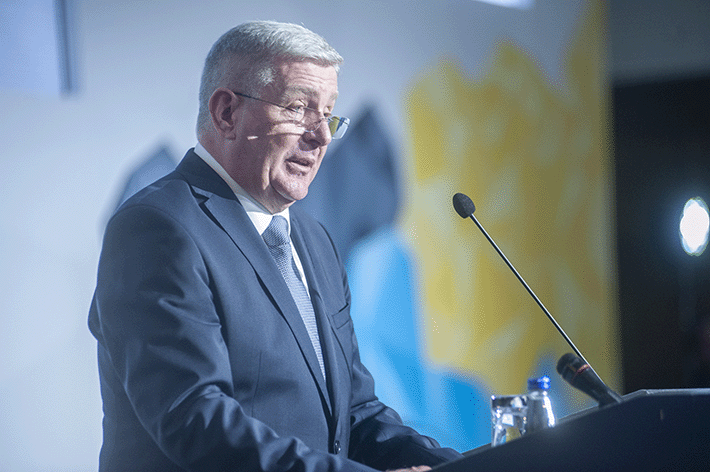 President of Chamber of Economy Vlastimir Golubovic said that accent was placed on regional co-operation as an inevitable factor in strengthening the stability and competitiveness of the Western Balkans and that only strong cooperation can create a synergistic effect. The Balkan countries have achieved great success despite the many challenges they face.
Golubovic said that departure of population to the countries of Western Europe and the lack of manpower are the main challenge for economies of Western Balkans.
"Businessmen point out a clear commitment to strengthening business relationships with colleagues in the region, while being aware of the need to focus on future in which is quality of life main priority", he added.
The OECD's Deputy Secretary General, Ulrik Vestergaard Knudsen, announced that close cooperation between public and private sectors is at the core of the OECD's work.
"We have brought together governments and business leaders to come up with common ideas and bring better policies for a better standard of living for citizens", Knudsen said.
Knudsen added in his speech that regional co-operation will be of crucial importance in order to bring greater prosperity to region's inhabitants and will enable states to overcome barriers and have better flows of services, goods and capital.
He estimated that the Western Balkan countries had grown significantly, but region need to develop a new growth model.
"Deep structural reforms are needed, and they are even more important in the context of weakening global macroeconomic conditions, which are beyond the reach of the region's politicians," Knudsen said.